Apparel and Fashion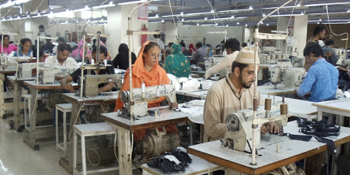 Garments manufacturers, exporters, importers, purchasing managers, agents, stockists, dealers, distributors, retailers, traders and wholesalers are listed in this section. You may create your profile if you are also one of these or you may register and contact them for any potential business. Registration will give options to send them emails, bookmark them and maintain your communication with them within YPP.
Results

Shamas Pura Shamaspura, Sialkot, Punjab 51310
Sialkot, Punjab 51310
Pakistan
We are pleased to introduce ourselves as one of the leading and well-established manufacturers/exporters in Hosiery.

: F 15 Jammu Kashmir Housing Scheme, Islamabad, Islamabad Capital Territory

Pakistan
Salon Designer has more than 15 years of experience in salon designing and salon supplies. We stock thousands of lines from globally acclaimed brands ...

2nd Floor, A-552, Street 7, Block N North Nazimaba
74600
Pakistan
Juniorscart is an e-commerce store, which provides you the wide range of best quality products, in reasonable price and moreover provide you the 7 ...

Building R-13 1st Floor, Phase 8 DHA (Ex Air Avenue), Lahore, Punjab, Pakistan
54000
Pakistan
Mysa.pk is an online store of Pakistan's premium designer wear clothes.

Gulberg-lll
54000
Pakistan
We specialize in Woven & Clothing Labels, Custom Woven Labels, Printed Woven Labels, Embroidery Patches, Hang Tags, Strings, Size Labels, Woven ...

Daska Road
Sialkot, Punjab 51310
Pakistan
XAPIR INDUSTRIES is the specialized Manufacturer & Exporter of Pro-Quality Sports wears, Boxing wears & gears, Casual wears & hundreds of another ...

Lahore
Lahore, Punjab
Pakistan
Mehak Adil is a fashion outlet that has latest style in clothing from bridal dresses to formal dresses.

lahorr
2500
Pakistan
Vita White Capsule In Pakistan Skin Whitening:
The Vita White Capsule in Pakistan is making it an amazingly effective remedy for creating you young ...

Pasrur Road, Dheera Sandha
Sialkot, Punjab 51310
Pakistan
Manufacturer & Exporter Of Sports Goods


Karachi, Sindh
Pakistan
Sabreesha is an online clothing store in Pakistan for women. Our brand name is becoming popular with every passing day, thanks to our team members and...
Featured Listings

Small and Medium Enterprise Development Authority (SMEDA) 6th Floor, LDA Plaza, Egerton Road, Lahore 54000, Punjab
Lahore, Punjab
Pakistan
Small and Medium Enterprise Development Authority