Top 10 Best Businesses in Islamabad (Islamabad Business Directory)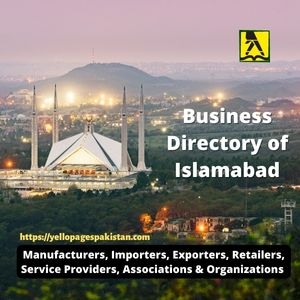 Islamabad
Islamabad Yellow Pages - Find a complete directory of all businesses located and registered in Islamabad, Pakistan. List of thousands of B2B enterprises including factories, Agent, Consultants, Dealer, Distributor, Exporter, Importer, Stockist, Manufacturer, Retailer, Trader, Wholesaler, Service Provider. Find owner name, location google maps, location address, phone numbers and other useful information. If you are doing business in Islamabad, you may register for free and list your business in our directory.
Search within these results:
Results

Plaza #12 , Main Service Road Besides Allied Bank, Model Town Humak, Islamabad
Islamabad 44000, Pakistan
Food Glorious Food

I-9/3, Islamabad
Islamabad 44000, Pakistan
OnTrack is Pakistan's most refined Online Delivery management system providing the best online delivery software for small businesses, restaurants, ...

2nd Floor, Above Save Mart, G11 Markaz, Islamabad.
Islamabad 44000, Pakistan
Topline Marketing stepped into Real Estate Market with the conviction of changing the image of this field in Pakistan. Over the last 27 years, Topline...

Office number 01, First Floor, Decent Arcade 1, Block B, Topy City-1, Islamabad Pakistan
Islamabad 44100, Pakistan
We are regarded as a leading service provider in the Islamabad real estate industry. Our services are top-notch, as seen by the positive feedback we ...

Plaza No. 5 , 5th Floor, Sector A, Main GT Road, DHA 2, Islamabad
Islamabad 44000, Pakistan
Edify Studio has committed to provide high quality construction services since the year 2013. The company has successfully completed many residential ...

#1, Ground Floor, Professional Arcade Plaza
Islamabad Gardens, MPCHS, E-11/3, Islamabad, Islamabad , Pakistan
Deals In Technology Based Domestic, Business, Agricultural and Industrial Equipments.

3rd floor, Manzoor Plaza
Fazal e Haq road, G-6/2 Blue Area, Islamabad, 44000, Islamabad 44000, Pakistan
MindStir redefines the traditional work place by bringing you a platform that welcomes productivity, innovation and flexibility!

Office # 11, 2nd floor, Umer Building, Jinnah Avenue, Blue Area, Islamabad, Pakistan
Islamabad 44000, Pakistan
S2S Marketing is a leading digital marketing company in Islamabad. We believe in hard work, core values, and dedication. By covering all old and ...

Building 123,1st floor, Civic Center Bahria Town Phase 4 Islamabad
Islamabad 46000, Pakistan
Advance Era Tech is a full house Development company providing Digital Marketing Services, Social Media Marketing, Mobile Apps, Cloud computing, SEO, ...

Peshawar Road , RWP
Islamabad 46000, Pakistan
Solar Energy Providers in Islamabad and Rawalpindi endeavor to guide you in making better decisions for the Purchase and Maintenance of Economical ...
B2B and B2C Directory of Top 10 Best Businesses in Islamabad (Islamabad Business Directory)
Visit Malaysia
YPP gives a automated automated B2B and B2C listing that has been created specially for organizations that are either based in Pakistan or they serve the Pakistani market. Our visitors and customers can locate the most appropriate businesses to work within a single location and in a matter of seconds. You will be able to select the best agent with the assistance of our review and rating system, and you will also have the opportunity to provide feedback about the company in order to assist other users in making more informed choices.
An opportunity for digital marketing and online advertising exists for all businesses in Pakistan that are related to Top 10 Best Businesses in Islamabad (Islamabad Business Directory). The opportunity to create a business is open to all exporters, importers, agents, stockists, consultants, service providers, manufacturers, distributors, associations, dealers, retailers, traders in the
Top 10 Best Businesses in Islamabad (Islamabad Business Directory)
areas. YPP is an integrated digital marketing solution for businesses, with the goal of increasing business presence and promoting it online with our Yellow Pages, which are integrated with Instagram, Facebook, LinkedIn, Google, Google Maps, and QR codes, amongst other platforms.
You will receive a dashboard to manage all of your listings, as well as the performance of your listings, as well as who is visiting, rating, and reviewing your businesses in
Top 10 Best Businesses in Islamabad (Islamabad Business Directory)
. Registration on YPP is completely free. Because all of your interactions with other companies are stored in your dashboard and can be accessed there, just like email messages in your inbox, you will never again lose track of potential business leads or opportunities. With good feedback and review you will automatically listed into any of the following special sections. Therefore it make sense to ask your customer to give you good feedback and reiew below your listings:
Recent Blog Posts
Please find the list of top 10 best fumigation and pest control agencies in Pakistan especially in Karachi

Digital marketing agencies, SEO/SEM experts and freelancers can take advantage of YPP, with corporate account capabilities. Such premium listings have

Its time to file your tax returns. We have complied the lix of tax layers in each major city in Pakistan. You may engaged them and post your rating