Home Appliances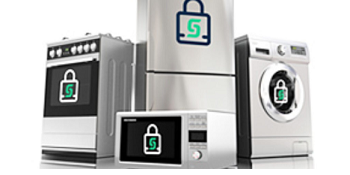 Home Appliances Companies in Pakistan - Find Home Appliances products, manufacturers, agents, stockists, dealers, distributors, retailers, wholesalers, suppliers, industries, exporters, companies directory, dealers and traders. Find top Buyers, Sellers, Service Providers of Home Appliances Pakistan. You may create your registration and create your profile. It will give you options to send bookmark, send emails and maintain your communication with them within Yellow Pages Pakistan Platform.
Results

6TH Floor Madina City Mall Abdullah Haroon Road Karachi, Pakistan
75260
Pakistan
Buy Home Appliances in arysahulatbazar.pk Refridgerator, Freezer, Air condition, Generators, Washing Machine available in all Brands Order Now & Get ...

397 Service Rd E, I-9/3 (Fazal Sons)
44000
Pakistan
An online market place exclusively to cater your needs, giving you thorough e-commerce experience with freedom of doing business. Providing customers ...

kangniwala bypass sialkot road
gujranwala
Punjab 52250
Pakistan
lavish collection manufacture and register company in Pakistan .who provide a material services for home use and commercial sector .our product list ...

East Golden Tower,No.729 Pujian Rd,
Pudong, Shanghai CN
Ningbo
Pakistan
Fog free shower mirrors are simply stuck to the back of any standard or safety-backed mirror. The mirror is normally connected to the existing room ...

ITAL TRADING COMPANY CLIMAX ROAD NEAR FICO, G.T ROAD GUJRANWALA, GUJRANWALA 52250, 1,
Gujranwala, Punjab
Pakistan
ITAL TRADING COMPANY is a Gujranwala based Exporter company for Home Appliances, Pressure Cooker Mfrs.

PUMA ELECTRIC and GAS APPLIANCES Puma Gas Appliances,Hafizabad Road,Gujranwala, Gujranwala 05225, punjab,
Gujranwala, Punjab
Pakistan
PUMA ELECTRIC and GAS APPLIANCES is a Gujranwala based Manufacturer company for Home Appliances

Marketect Associates SC-38 Bahadurabad, Karachi, Sindh,
Karachi, Sindh
Pakistan
Marketect Associates is a Karachi based Importer company for Home Appliances

SUPER ACTION GAS APPLIANCES Street Haji Ameer Din,Hafiz Abad Road, Gujranwala,52250,Pakistan, Gujranwala 52250, Punjab,
Gujranwala, Punjab
Pakistan
SUPER ACTION GAS APPLIANCES is a Gujranwala based Manufacturer company for Home Appliances, Burner Controls

A1 protectors 1-6, A/1, PECHS, Karachi, Sind,
Karachi, Sindh
Pakistan
A1 protectors is a Karachi based Exporter company for Home Appliances

SHOAIB BROTHERS. GULSHAN CHOWRANGI BRANCH, Karachi 75300, Sindh,
Karachi, Sindh
Pakistan
SHOAIB BROTHERS. is a Karachi based Others company for Home Appliances
Featured Listings

Small and Medium Enterprise Development Authority (SMEDA) 6th Floor, LDA Plaza, Egerton Road, Lahore 54000, Punjab
Lahore, Punjab
Pakistan
Small and Medium Enterprise Development Authority