Top 10 Home Appliances in Pakistan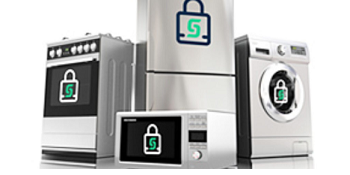 Home Appliances Companies in Pakistan - Find Home Appliances products, manufacturers, agents, stockists, dealers, distributors, retailers, wholesalers, suppliers, industries, exporters, companies directory, dealers and traders. Find top Buyers, Sellers, Service Providers of Home Appliances Pakistan. You may create your registration and create your profile. It will give you options to send bookmark, send emails and maintain your communication with them within Yellow Pages Pakistan Platform.
Results

111,Kassam Court,BC-9 Blo-
ck-5,Clifotn, Karachi, Sindh , Pakistan
MODERN PLASTIC INDUSTRIES

SC-35,Chandni Centre Stadium
Road, Karachi, Sindh , Pakistan
MOOSA CO.

25-C,Main Khayaban-e-Jami
Phase-VII,D.H.A., Karachi, Sindh , Pakistan
CERAMIKA

107 Business Avenue Block-6,PECHS
Sharae Faisal, Karachi, Sindh , Pakistan
PAK LAND TRADERS

8-C,Basement Shawez Centre
F-8,Markaz, Islamabad , Pakistan
RAMZAN SANITARY STORE

R-1-2-30 Sector No.41/B Kashtiwali
Building,Korangi, Karachi, Sindh , Pakistan
SAEED SANITARY HOUSE

Shop No.147,Railway Road
Faisalabad, Punjab , Pakistan
NIAZ TRADERS

kangniwala bypass sialkot road
gujranwala, Punjab 52250, Pakistan
lavish collection manufacture and register company in Pakistan .who provide a material services for home use and commercial sector .our product list ...

13-B,Deh Ibrahim Hyderi Korangi
Creek, Karachi, Sindh , Pakistan
SHAHEEN SUPER MARKET

CF-1-5,Park TowersBlock-5-
,Clifton, Karachi, Sindh , Pakistan
CHEN ONE STORES (PVT) LTD.
B2B and B2C Directory of Top 10 Home Appliances in Pakistan
Visit Malaysia
Business Directory offers a digital automated B2B & B2C digital phone book that has been manufactured especially for enterprises that are either have office in Pakistan or they are catering to the needs of the Pakistani market. Our visitors and customers can locate the most appropriate offices to work within a single location and in a matter of seconds. You will be able to select the best association with the assistance of our review and rating system, and you will also have the opportunity to provide feedback about the agent in order to assist other users in making more informed choices.
An opportunity for digital marketing and online advertising exists for all businesses in Pakistan that are related to Top 10 Home Appliances in Pakistan. The opportunity to create a business is open to all stockists, traders, agents, consultants, retailers, service providers, manufacturers, dealers, distributors, exporters, importers, associations in the
Top 10 Home Appliances in Pakistan
areas. YPP is an integrated digital marketing solution for businesses, with the goal of increasing business presence and promoting it online with our Yellow Pages, which are integrated with Instagram, Facebook, LinkedIn, Google, Google Maps, and QR codes, amongst other platforms.
You will receive a dashboard to manage all of your listings, as well as the performance of your listings, as well as who is visiting, rating, and reviewing your businesses in
Top 10 Home Appliances in Pakistan
. Registration on YPP is completely free. Because all of your interactions with other companies are stored in your dashboard and can be accessed there, just like email messages in your inbox, you will never again lose track of potential business leads or opportunities. With good feedback and review you will automatically listed into any of the following special sections. Therefore it make sense to ask your customer to give you good feedback and reiew below your listings:
Recent Blog Posts
Please find the list of top 10 best fumigation and pest control agencies in Pakistan especially in Karachi

Digital marketing agencies, SEO/SEM experts and freelancers can take advantage of YPP, with corporate account capabilities. Such premium listings have

Its time to file your tax returns. We have complied the lix of tax layers in each major city in Pakistan. You may engaged them and post your rating